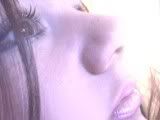 I just had to say that Life is incredibly blissful! No matter what I go through each day, my heart is constantly being kissed. I am finally at that point of my life, where I can look back and say, "I would not change a thing!"

... the reasons for this? I would not be where I am now. And "here" is where I have always longed to be. I am blessed, be sure. I have one of the most perfect best friends (See-saw). :)

I look ahead, as well. There, in my future, are all things good. How can I be certain? Well, you are what you make yourself, are where you placed yourself (there are some who have had no choice). And I will always do my best to overcome anything not so good, rise above those things, and release them.

That is where the "all things good" outshine everything else, and the rest fade out of sight. So, there cannot be any "not so good things", if you learn to let them go. :) They are only clouds, and clouds ALWAYS pass.

I am happy. My Life can do as it pleases, nothing can change what is in my heart. And, my heart rests softly behind my eyes, where I can only see through the eyes of Love,...

... there is no better way to really feel Life, and all it has to offer. I welcome it with open arms.