Wow, what an exhausting week so far! Being business owners, Stefan and I have been busy as bees (and happily so). After we stopped in and helped out our employees, we came home. Not long after, I was off to the hospital for a class to teach as Stefan was taking care of his magazine and such. I think our day ended at around 9:30pm.

I am up again and going to wake my sweetheart in a moment! Sadly, I just realized we are out of coffee. :o The funny thing is, I cannot even see straight yet. Well, not funny, but funny. ;)

Anyway, I wanted to say thank you to a website for featuring a photography album of mine:





I found this sweet symbol in my email this morning and am very honored. The album is under "Travel" and titled. "A Photo Journey". Thank you for all your wonderful support, photography is a great passion of mine.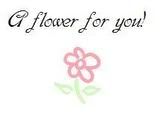 I have more news to share, but must get in the shower and go grab coffee somewhere, so we can begin our day on 2 feet! I will write more in here as soon as I can.

Have a beautiful day,
Cher

p.s. I also wanted to thank the kind people that leave comments here in my blog or send me an email stating they were here. I will come visit you sometime this week. :)