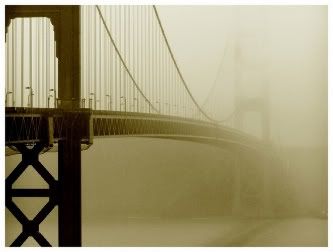 I decided to write a little something about the man who has captured my heart,... Stefan, my twin soul. It all started within our love for San Francisco and his beautiful smile:


Pt I:

We became friends a long time ago. From there, we began to speak each day for a few hours. Then, the few hours became 75% of our day. No matter where we were, we were connected; we could be working, shopping, or any other activity and we were on the phone together. By that time, we had become best friends, knowing more about each other, than anyone else in our lives. (... we even knew what we each had in our cupboards, haha.)

I recall a few years ago he had left me a comment about being twin souls. He also sent me the entire lyrics to Tupelo Honey. (I have now made that the first song on my Myspace play list.) And I had written him a poem, but he never had a chance to see it (I was so shy in directing him to it). By that time, I assumed we would remain only close friends and began dating a man that he swore would hurt me. I broke Stefan's heart and trusted the other man's words. Through the entire relationship Stefan stayed by my side as my very best friend, waiting for my heart again. He had bought me a beautiful antique cameo necklace on Valentine's Day, and it was then that I really felt his love for me more than ever. It was not the gift, but the words that accompanied the gift.

Going back a bit:

We had plans to go out on a boat trip sometime last year, but that fell through. Then we had plans to go to an event together, but I could not make it. That was a few months after I began dating the other man. The other man and myself had never had any intimate moments, so when we broke up I was not only devastated, but in need of a warm kiss. Stefan was there for me through-out it all.

"Cher, my Sweet,

I have spent the past few hours with my head in my hands wrangling with thoughts of you. I can't help myself. I rehash conversations past and dreams made, crazy, huh?

I told you I would not ever come between you and Victor and I mean that wholeheartedly. I feel if I do not take some time away I will only fall for you more. You need me as a friend and I promise to be that for you, always.

I am going to bow out for a few days just to gather my thoughts and let your life blossom in your love. You and Victor need to grow and I know you don't need my interjections, you are a full grown beautiful lady, and I don't want to interfere, I have feelings for you that go beyond friendship and it is not fair to you and Victor for me to express those emotions.

I need to suppress how I feel so that I may be the best friend you have had, ever. As I have told you in the last note in this comment section. I will be there for you always, your confidant, your shoulder, your strength, your smile I just need to take a hiatus from my heart and let you and Victor be.

I love you, oh I truly do, you stole my heart and it cries out to you, I know it is only an echo I will ever receive back and with that knowledge I need room to heal and I'll be back for whatever you need in a friend. That is what friends do.

Always in my soul...always in my soul.

Stefan aka See-Saw"

Let me break a moment to say that Stefan is the sweetest man I have ever known. I am truly blessed. And, after re-reading his words above, tears have begun to form in my eyes--I was such a fool to not have been his at that moment.

Allow me to take a deep breath or two before I continue.

...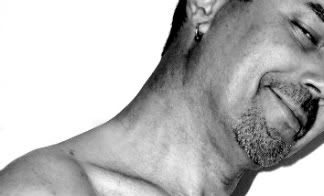 Pt II:

You know, (smiles) we have had such great conversations. Haha, sometimes someone would walk in as we were speaking and raise a brow! Gosh, I cannot help but smile thinking back on some of them.

Looking back at some of his words, my heart really embraces his. I was so blind and I wasted so many days by not running into the warmth of his loving arms.

"You know...I don't know what I would do with myself if I could not spent time with you every day. It is as if it is a ritual of sorts, a celebration of life between two beings. I dance an incredible dance during these hours with you. It is truly a joy to share with you stories of ourselves, aspirations, our pleasures and sadness. The weekends are seemingly endless when they come! That is absolutely astounding to me! Any man would be blessed to have you in their life. I am grateful just to be a portion of it. I am certain that across the vast eastern sea the man awaiting you knows this to be true as well. There are many ladies out there that dream of just one man that loves them as much as two that hold you dear in their hearts. How extraordinary is that?! Any man that cannot see the beauty within you and reward you with all of their love lost and blind.
How many men are called the bunion on a woman's big toe and adore those words?! :)

Goodnight Pet, Dream Sweet and rest well."

*******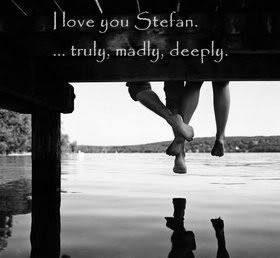 *******

"My Sweet Cher,
No matter what befalls you, whether dark looming clouds, torrential rain rising
I will be radiate as a sun to chase it all away.
I will always stand beside you when everyone else leaves you alone.
When you feel faint from the woes of life, my arms will protect you from the fall. As the winds from irrepressible storms blow against you, lean on me.
My assurance will guide you through an opaque mist of doubt.
Whenever you fall, I will lift you up higher. If your heart is heavy laden, I will take your yoke upon me and bear you load.
Always in your garden, I am the fragrant gardenia. I will never leave, just close your eyes and I am there.
I am whatever it is you need, just call my name. Whisper gently into the night, scattered breath across the waves, and I will come swiftly, sheltering you from the cold.
I will remain always your protector, your defender, your faithful knight and always your best friend. When the ashes of my vessel pass over the sea, lift up your eyes and I will keep watch over you until we meet again.

Love always your only See-Saw."

He has been the one consistent thing in my life--true to his heart. And he is very patient. During that time he stood beside me, never letting go of my hand.

Then one night I stayed up all through it crying. I realized that it was Stefan all along. He was "The One". We both spoke and at that moment we grew softly into each other even more so. We were together at last and my heart could not have been happier. Since that moment, sad days have not crossed my path. With the other man, i became sad a lot. With Stefan, I could be myself, and he always accepted that no matter what mood, how many tears or smiles, and no matter the moment. ... he was unconditional.

(Ok, tears once more. I need to walk away for a moment. Be sure, they are not tears of sadness, but tears of the overwhelming feeling (and knowledge) of being the world's most blessed woman. )

I am so in love with him.

...

Pt III:




(My favorite photograph of him. I remember watching him shave and feeling a rush of love like no other.)

So, after days of discussion, love and laughter, we decided to marry. I must say, it was not only one of the best decisions that I have made, but it was one of the best days I have ever endured. And, Our intimacy was/is beyond words,...I so love him.

(I know, I skipped that story, but I am still on cloud 9 and I need to keep each intimate moment so close to my heart.) :)

We are incredibly happy as one.

"I'll never let his heart go where mine has been" - Azure Ray

"Friday's conversation left me with even more thoughts of you as I awoke on Saturday. Cher, sweetheart you changed my schedule for the day. You turned my entire day around... work was put aside for the first time in a long while. I had to escape the routine I am accustomed to... to discover my heart and my direction.

I was headed to the office only to realize the ocean was calling from me to seek you... to the place I have gone in days gone by to find you. Taking the train, you know the one, the one that lands you near the water's edge just beyond the highway.

I searched for paper in a pocket, took out my pen, strolled the beach and as I walked I penned these words...

Today I seek you to fulfill my thoughts. Baby, I walk along where the ocean meets the shore seeking all that reminds me of you, of us, of you. In the footprints embedded in the moist summer sand, where the tide has not yet reached, I imagine you have walked ahead, waiting for me to follow.

Broken sand dollars strewn across the sand I see broken promises made to a woman so dear, value of a life remains the same, yet gone unnoticed by the selfish ones, those devoted unto themselves. Shattered dreams embedded in the sand.

Just ahead, happy children's faces full of delight and discovery, laughter and innocence, draws me to ponder those days when we were young, how the world was ours. Nothing stood in the way of our dreams, our hopes for the future. Imaginary worlds we created where life was our joy, our tomorrow.

Passing a sand sculpture creator... a woman carved from the silica and minerals, his fantasy lady splayed for the combers to see. I stood there for a moment without comment, wanting it to come to life, call my name only to see you there. I turned away to seek that secret place where I have found you once on that winter shore. A time I desired you, whispering against the ocean spray, calling your name, listening for your voice, I found you there.

I have made it that peaceful, loving place. The place where four boulders emerge majestically from the sea, below the Cliff House, a place of solitude... the sea, the vast expanse of water... I am here to call for you. The pelicans look curiously on, the waves crash against the great weathered rock, millions of ages past carving into its surface, smooth like your skin... I lie against it, seeking its sun given warmth. Hear the ocean, hear the sound of two hearts transcending time and distance... I hear you there.

The ocean drips from my body, staining the ancient stone... I am alone with thoughts of you only, and the indescribable solitary beauty of this place... I await your heart from words spoken the evening before. You speak to my beginning, the part of me that was once you... my soul.

From this ocean we once were... splitting energy seeking to discover and to join anew in another time, another place. We found ourselves drawn to this place, this place amid the celestial expanse. The sea, the cradle of our lives here so many lifetimes ago, our home, I call out for you. On the breath of the breeze, you rush across my flesh, you are now here...

Captivated, you capture my mind, shadow my senses, I lie here only to welcome you, embrace my mind, reach deep within my thoughts, let me breathe your presence, bathe me with you.

The tide has changed, my day with you fulfilled... I leave this ancient stone amid the sea.

The phone rings... it is you!

Always,

See-saw "

I am a fortunate woman to be his wife, and I will always do whatever it takes to make his heart shine.
... it is the reason my own beats. He is the reason my future will be more beautiful than ever. He is more than a man, he is my husband,... my hero.

"I smile, See-saw. I smile at the thought of you, of the way your voice makes that sweet sound after some sentences, of the way you and I are so alike, and I smile in the knowing that you love me more than words could ever begin to express.

I recall 2 years or so ago, (... perhaps longer) when I was away in Rhode Island. I remember walking along the shore and writing a poem from inside my heart. I once told you about that poem, ( you know I wrote it for you.) I look back at that poem and shake my head. Why? Well, those words could not begin to come close to the way I feel. I would need an entire collection of Neruda poetry to express my thoughts. Even then, you would not know. So, I pray that each time you look deep within my eyes, you feel every love poem ever written. Because you, my sweet, are those poems and more. ... you are the reason the sun shines through my window.

Always know, no one could ever compare to the true man that you are. And within each moment of breath, I thank the Heavens above for allowing me the chance to walk beside the most beautiful man alive--the hero, best friend, courageous and most loving man a woman could ever hold in her arms.

My life is changing, baby. Our lives are changing.
... the one thing that will never change is my love for you.

I need you,
Cher "

"I now know I cannot live my life without you in it. If time could reverse itself 20 years I would have held you then, although it is 20 years into the present, I can only begin to make up for years I have missed. If I were to pass from this world tomorrow, the last motion picture my eyes would desire to view, is you looking down into my eyes smiling, the last breath I would draw would be the air you released from your lips. My life would then be worth all I had missed in days past.

I love you 'til the stars crash down into the dust and breathe anew. It is you....

Stefan "

I apologize for not opening my eyes earlier, but all I can do is live in the present, and it is the present that forms a smile upon my lips. ... it is his love that I live for.

"My sweet,

I woke to get a drink of water and had to say,... I so love you. I read what you wrote, as well, thank you for loving me as you do, I am truly blessed.

Baby, I cannot wait to give myself to you, for you are the one that inhibits all my dreams,.... the one that knows me more than I do myself, and you are the one that I will kiss good morning for the rest of "our" beautiful life.

As you know, I am far from perfect, but I promise to be the best I can be, so your heart always feels loved. And I may push you into a rain puddle here or there, laugh when you trip and fall, starch your socks, and I may drag you through a ton of shoe stores to find that perfect pair that match some outfit I will probably only wear once, but know this:

... no matter what I am doing or where I go, it is you, my love. It will always be "you". I will stand beside you to protect and love you, until I breathe in my last breath. I will never allow anyone or anything to hurt you, baby. And be sure, if you ever should fall, it will be my hand that helps you back to your feet once more. (... it just gives me one more reason to hold you in my arms.)

I love, love, love you, See-Saw!

Your Italian brat,
Cher ;)"


From this day forward, I am his, and he is all that I am. He is my best friend, my husband, my world.

I love him, I love him, I love him!
... always.

Cher