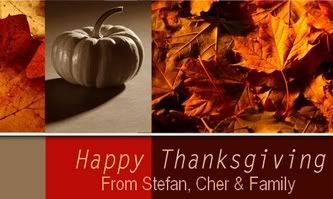 A moment to relax before Stefan and I begin our cooking for tonight, and for the holiday. He will prepare homemade pies, the main course and some other things. I will do other preparations. He and I went shopping this evening for Thanksgiving, and it was wonderful deciding together what to cook, beginning new traditions and simply being out in this wonderful season with him. We make a great team.

And I must say, being married to, not only a warm man, but someone who has been my best friend during so much through-out the years, makes our bond even greater. I have no doubts our holidays this year will be new and exciting.
... I have no doubts that Stefan is "the one".

May you all have a wonderful Thanksgiving holiday!