(I took this photograph after he took a hot bath and began to cook dinner for two.)

After a long trip, Stefan is finally home. We had such a wonderful time yesterday; he made me such a nice Shrimp Bisque dinner, we watched a few movies, made love several times, laughed, played and relaxed. It is so good to have him home. :)

The dinner was absolutely delicious! (Thank you, baby.) :) Thank you for everything else, as well, (especially all the butterflies that swam inside me whenever you touched me)--you are incredible in every way.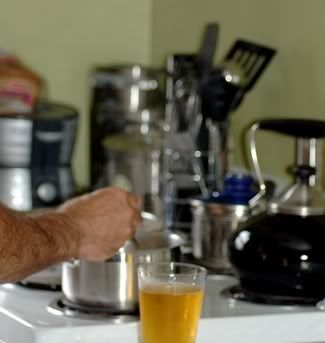 He is asleep right now and so adorable there. :) I hugged him, told him how loved he was, and got out of bed to write and work on some photos. In a few hours, we are going to go take some Autumn photographs in the woods. I cannot wait!

He is everything precious to me.

Gosh, he always shows me how much he cares,... and it just blows me away. He wrote about his trip here. The story even brought tears to his eyes as he read it to me. He spoke of people he met and when he read about how loved he is by me, his eyes began to water. He is such a sweetheart.

Well, I suppose I will get back into bed beside him--there is nowhere more warm and loving, than within my husband's arms.

Cher :)