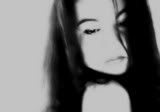 It is late. My hands are fireflies—
they suffuse and ignite your Autumn
to rain.

This spilling, made fresh by the ache
of my mouth— a bounty to serve
your skin another season.

Softness gathers at your hip, blesses
the dead trees that will come with
a late winter.

The song is not sorrowful.

I write in hopes that distance slips
from your palm. I note white-covered
crags that hang from your sea:

wool-coated offspring that plow along
the shore—a starfish or two, quiescent
in the tide.

Does this intention unfasten the heat
from your horizon?

Come, carry me to you—I want to cool
your breath with the wetness of
mine.

I do not wish to be here any longer.
This conurbation is a breast of lonely
cognoscenti and violinists that drift

until dawn—they gather solitude, spread
it thick like the clouds when you
are not near.

I need you—I stand in these drift tunnels
unable to move. I tug at the edge of my
heart in hopes of reprieve.