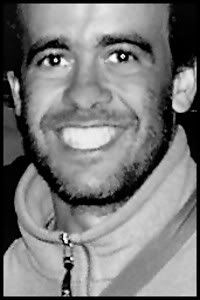 I have been adding these entries on the people closest in my life, and here is another. I really cannot express what I feel, because it is the way I do about dawn (in a way, as far as being inexpressible.) have you ever known someone and felt them to be an angel in your life? as if, out of the blue, someone comes along and makes you an even better person? that is victor.

that song, "kind and generous" by, natalie merchant, fits perfectly. he is always, always there for me. he is so gentle with everything and everyone around him. I am truly blessed,... if I ever needed someone to talk to (besides the others I added here in their own tribute posts) I could come to him. I love victor so much, for the way he is, and for the way he always will be.

here is something he once said about an image of his:

"Walking in life, always ahead, or by foot towards sunset in pilgrimage. Sometimes we need to look around to realize about certain gifts that we are given. As a sunrise, looking back. As the nice silhouettes we leave behind. As the nice silence and peace that encourages to keep on going."

victor is selfless, honest, and one of my best friends. he is love, generosity, courage, positivity, and a wonderful listener.

(dawn is like that, as well,.. she really hears what you are saying, and does not act, but is genuine. (matt too.)

his smile could light up a room. if you only could see how he is with his students, his friends, how he takes the time to acknowledge things that people say about his wonderful photography--he replies with such kindness. he even went on a pilgrimage! I am so proud of him. and I admire and respect him. he truly amazes me.

so, this post goes out to another angel in my life, victor. I hope he is always a huge part of my life, for I am truly grateful to have him.




to semi-quote a song, "he holds me in his hands, he will not let me fall."