Cher
Originally uploaded by ♥ Colpo di fulmine ♥
Some of my
precious
b-day greetings today in email and site:
****************
Victor sent a beautiful singing "Happy Birthday" with flute. :)
********************
JoJo, Mark, and a few others sent greeting cards. I will have to open them after class! :)
*****************
Martin made me the cutest image. Dawn made things. (I will post them tonight.) I have not even seen Dawn's things yet! xo
*******************
Hi Cher,
happy birthday and all the best to you. I hope you have a great day and all your wishes become true. 1,000 warm hugs to you
Carsten
http://www.flickr.com/photos/cw61/
**********
http://flickr.com/people/cherilynferroggiaro/
**********
I'm showering you with imaginary presents. Dreams that you feel beautiful and elated, a zeppelin of heart and curiosity. I love you a couple days past forever's expiration,
mattchoo
**********
http://www.flickr.com/photos/cherilynferroggiaro/2048917779/
************
Buon compleanno! Joyeux anniversaire! Alles Gute zum Geburtstag! feliz cumpleaños! yom huledet sameakh! felix sit natalis dies! Happy birthday Cher!!!!!!!!!!!! :-)
Lorenzo
http://www.flickr.com/photos/nissart/
**********
carissima Cherilyn, ti auguro un bellissimo compleanno !
All the people around you are very lucky, I mean your friends, family, patients... You have a magnificent heart. It shines all around you, and through Flickr your aura spreads all around the planet, I am very happy to have you as a friend.
Alex
http://www.flickr.com/photos/fundone/
**************
Feliz Cumpleanos amiga =) and we all not always make the right choices but at least we can give our best and is you and how you grow from your own, Leave life, enjoy life is a gift, no regrets, make the best of all is what makes you YOU, is what makes me ME... =) Cheers
Gisela
http://www.flickr.com/photos/gisela-m/
***********
aw yeah days alive
like this are lovely poetic
mindful art
at play i know yes
i know
how
a whole planet full of eyes and thought
ears
and mouths to feed feels not
so
big and beyond imaginative sharing one
single moment after
another real ever present one with
you on flickr or even at times
like
this PLuTo dear
scorpio of blessed
stars
HaPPy biRTHdaY ! !
Ron
http://www.flickr.com/photos/atspeed/
****************
thank you cher for the smile! happy birthday my friend!!!!!!!!!!!!!!!!!
this is for you dear cher:
Nicola
http://www.flickr.com/people/nicolacipriani/
***********
So, it's your Birthday, Cher...
TANTI AUGURI A TE - E LA TORTA PER ME... (così abbiamo cantato quando eravamo ragazzi) Hope you'll have a great day full of celebration, family, friends, sparkling presents and love. Wish you all the best my friend
_mario
http://www.flickr.com/photos/8693203@N07/
***********
Grazie cara Cher... ti invio un grosso bacio dall'Italia...SMACK
Simone
http://www.flickr.com/photos/coffee76/
**********
Hi Cher! :):)
It's 1:19 a.m. my time, so I am wishing you HAPPPPPPPPPPPPPPY BIRTHDAY
already!! :) I love you ~ I love you ~ I love you ~ I love you!!!!!!!!!
I just put the video I made for you along with 2 pics over on my blogspot and in 41 minutes I will be running as fast as I can back to LD to start loving-up your page!!! :D I actually up'd your video to LD the night before last and have been so eXcited to put it on your page!!
*giggles*
http://mrsmississippimom.blogspot.com/
I love you soooooooooooooooooooooooooooooooo very much my bestest friend EVER-EVER-EVER-EVER!!!!!!!!!!!!!!
Love/Hugs/Kisses,
Dawn
******************
Hey Cher,
sorry I missed your birthday yesterday... I had put it in my calendar a while ago, but from being so busy and my mind on other things yesterday, I seem to have overlooked that. So: Happy belated Birthday from me! Hope, you had a pleasant day and got to celebrate a bit (with lots of Caramel Cappucino, I hope ;-))
Hugs,
Werner
***************
Happy Birthday
Sono le 23.54 e leggo solo ora che è il tuo
compleanno........ quindi sono ancora in tempo per farti
tanti tanti auguri.
n.b. spero che prima o poi mi darai qualche dritta su come
fare qualche fotografia bella come le tue
Un abbraccio
Paolo
http://www.flickr.com/photos/fotopaolo/
************
Un très bon Anniversaire Cher !
Serge.
***************
Some sweet things here:
http://ferroggiaro.livedigital.com/

(Excuse the warning--the only thing sexual
there is a Madonna video. ;))
***************
Hey you,
I just want to wish you a very Happy Birthday Cher. I hope your day is filled with all the smiles and love you deserve.
Mark
http://www.digitalimagecafe.com/member_profile.asp?member=kiverm
*******************
Hello brat :D
I'm no good poet, and I don't wanna hurt your ears with my singing, so I picked one of my holiday pictures to congratulate you. On the Dominican Republic I booked a helicopter flight, that was so much fun.
Amongst other things, the pilot flew over this coral reef, where some corals were shaped like two hearts. These two hearts, beating next to each other in the eternal ocean, I wanna dedicate them to you :)
Enjoy your day, bella! May it be filled with warmth, love, smiles and laughter. I am so glad to have you in my life.
Happy Birthday!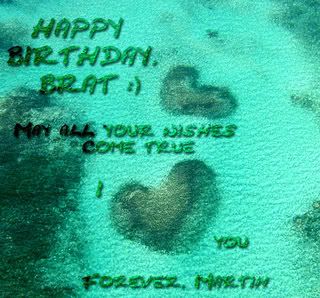 Forever and always,
Martin
http://popcornblog.de/
*******************
Hi Cherilyn. It is after midnight here in Iceland so your birthday has officially started here :) I wish you a happy birthday, surrounded by the people you love. I hope your future will be wonderful and that you get to enjoy some of the happiness you have given to others. You havebeen a fantastic friend, you are a beautiful person and you will hold a very special place in my heart for ipernity.
All the best, Oddur
*****************
Hi Cher, I just discovered that today is your Birthday! You are a scorpion like me! ;-)))) I was born on the 10th of November. HAPPYBIRTHDAYANDBUONCOMPLEANNO!!! ;-)***
You are so good that you can take beautiful pictures always and everywhere. You have a "great eye". Have a nice and peaceful day
ciao
--
lorenzo
http://www.flickr.com/photos/stratoblaster/
P.S.: I knew "cheeky" ;-)
**********************
SALUT!
happy birthday
Dav
http://www.flickr.com/photos/davetnat/
*****************
Tomorrow is the day we celebrate the gift of your birth. You have shared so much of your soul through the many great talents you possess it leaves one awed and inspired to follow your example. I send only great wishes and a whispered kiss upon the wind. I pray it finds your cheek and warms your heart. Happy birthday Cher; you are and have always been my inspiration.
Don
******************
I see in my inbox that there are Birthday cards waiting too. :)I will add more wishes after class. :) I have not gone to Live Digital or Ip yet. Grazie a tutti! Cher
p.s. some personal words I kept to myself and only posted parts of the greeting here. :)
Some more images as gifts (grazie):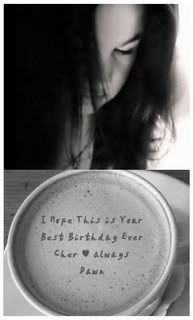 This last one from Dawn, it is so beautiful. She is such a wonderful best friend. :)