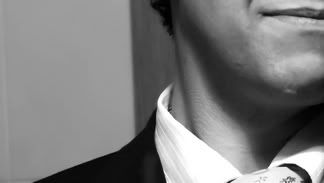 (an image of someone dear to me.)

... there is something about a man's neck--it is just so soft, simple and sweet. It is the simple things in life that we overlook most. Me? No! I truly notice them. Trust me, the simple sounds of feet, or laughter, really hug my heart.

(Well, it must be from someone special, mostly.) But with laughter, I almost enjoy it coming from any direction. :) I love it! Such sounds of happiness are true gifts.




May one of your new year resolutions be, to take notice in what is around you. To adore the simple things, and as well, be grateful for them. Even nature--can we try to be more respectful and thankful? It is a free gift, and it needs to be cherished, not for it being free, but for the beauty it brings. Let's give back next year. Let's show appreciation for the little things.

One thing I never understood was, why is something so valuable, more cherished, than something free? Love is free. Nature is free. A smile is free. Should they not be more valuable? It is not how much something costs that makes it better, it is how it is given, and how you receive it. I would rather have a smile so precious or true love, than money any day. And that comes directly from my heart. Because anyone can build an empire, but an empire built with love can only grow warmer. And from there, your riches can be seen. xo